Chromicent's core competencies lie in development and validation of chromatographic methods.
Chromicent's methods are robust, user-oriented, designed for routine analysis, easily transferable to any laboratory, time- and cost-efficient and they maintain perspective on environmental and work safety standards. Through robust analysis techniques with minimal associated quality control costs and significantly shortened analysis run times, more than 50 % of costs can be saved compared to standard quality control methods.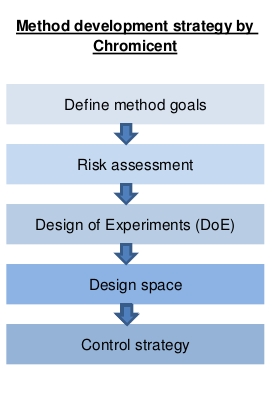 Quality by Design (QbD)
"… quality should be built by design. Chances in formulation and manufacturing processes during development and lifecycle management should be looked upon as opportunities to gain additional knowledge and further support establishment of the design space." (ICH Q8)
QbD is based on a systematic approach that combines chromatography modelling with experiment planning. The concept of method development and validation engineered by Chromicent complies with the ICH Q8 guideline and meets all necessary requirements for marketing approval.
The result of method development by QbD is more than a method. It is a quality tool.
Its speciality: Chromicent's methods will not only tell you what design space an application will work in – but also where it will not.
Lifecycle
"All phases in the life of a product from the initial development through marketing until the product's discontinuation." (ICH Q8)
Method development at Chromicent always takes a product's life cycle into consideration: from the idea, development, transfer, marketing approval, market launch and sale to its discontinuation. The knowledge management report allows change of a method within its design space or its transfer to a new production site or equipment landscape.
QbD yields robust methods that will meet future requirements and developments.
Method Transfer

Chromicent ensures optimum transfer of methods to existing production sites. read more
Advantage Chromicent
"Process Robustness: Ability of a process to tolerate variability of materials and changes of the process and equipment without negative impact on quality." (ICH Q8)
Analytical tests consist of a number of highly specific chromatographic methods. Quality control laboratories are required to prove comprehensive know-how in addition to GMP compliance and require extensive research equipment.
Method development itself is susceptible to being pushed to the background. As a consequence, many current methods for routine analysis are time-consuming, inefficient and lack robustness; analysis results out of specification (OOS) are frequent.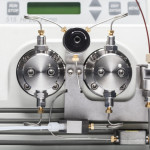 Combining years of experience with the highest level of scientific innovation positions Chromicent to be your partner for development and validation of chromatographic methods.